Think of a preliminary title report like a background check on a home, revealing tax, lien, or ownership poltergeists lurking. Knowing how to read a preliminary title report helps prevent spooky surprises.
Each report is several pages long and will always have the same information in the same order.
Owner of Record
Vesting of Owner
Legal Description (Geographical local of property)
Exceptions (Assessments. Encumbrances. Covenants, conditions, and restrictions, or CC&Rs. Easements. Other issues.) 
Plat Map (If one exists)
Title Insurance Information
Let's go through a Sample Preliminary Title Report: This will be very long. 
Page 1 
Title Page: Information about the Title company that generated the report and for who they generated the report, the type of Title insurance the property has, and the date the report was generated. 
Page 2
Owner of Record
This is where the seller's name should be. The only time this name should not match the signer of the seller on documents is if it is a Power of Attorney.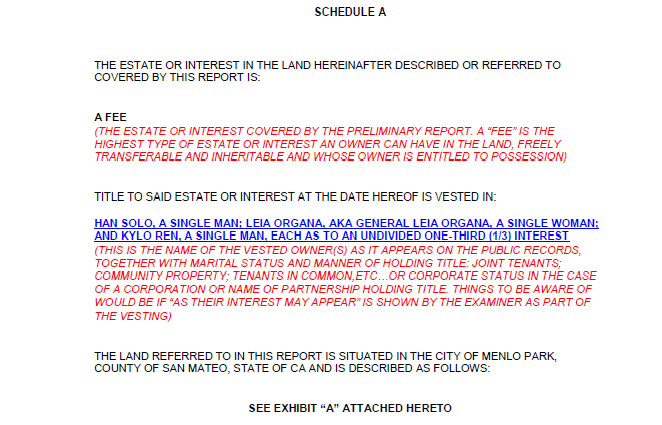 Statement of Vesting
Next, the report will lay out the extent of the current owner's interest in the property. The highest type of ownership, and the most common, is known as "fee simple" or "fee."
There may be other types of ownership that will show up in this section. For example, you might see a leasehold estate, which gives a tenant exclusive rights to use a property owned by someone else for a set period of time.
Page 3 
Legal Description
The legal description details the property location, lot size, boundaries, and any easements or encroachments. For condominiums and planned unit developments, the legal description might include common areas, parking, storage, and easements that convey.
This can be a number of pages long depending on the property. It should always include the  Assessor Parcel Number (APN) for the local county to keep track of the property for Tax Identification.

Exceptions
Page 4 – 8
General tax issues

. Are there unpaid taxes? Property taxes will show up as the primary "lien" and as due or paid in full. Property taxes must be paid for the property sale to go through. And tax classifications could affect the new owner. For instance, if land is classified as agricultural, there could be penalties for withdrawing from that classification.

Assessments

. Are there delinquent water or sewer bills owed to the city that need to be paid before closing?

Encumbrances

. These might include liens from creditors or lenders, or liens for the payment of federal taxes or assessments. They might also include liens against a property because of back-due child support of spousal support. Are there loans against the property you weren't aware of, such as additional mortgages?

Covenants, conditions and restrictions, or CC&Rs

. These are rules that homeowners must follow in a planned community or common interest development. They might determine whether you are allowed to park on the street, what kind of fence you can put up, or what color you can paint your house.

Easements

. An easement is the right another party has to the property you're interested in buying. For example, neighbors may have a right of way that allows them to access their property through yours. Or a utility company might have the right to install, access, or maintain equipment on the property, such as power lines or cable.

Other issues

. There are other matters that may appear on the preliminary title report, such as bankruptcies or notices of action, which are court proceedings that are underway and involve the property.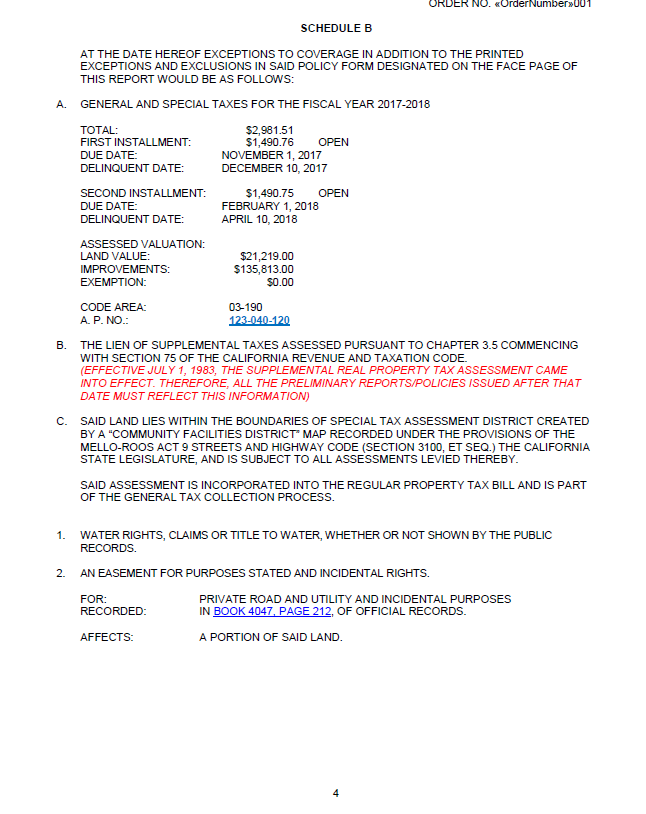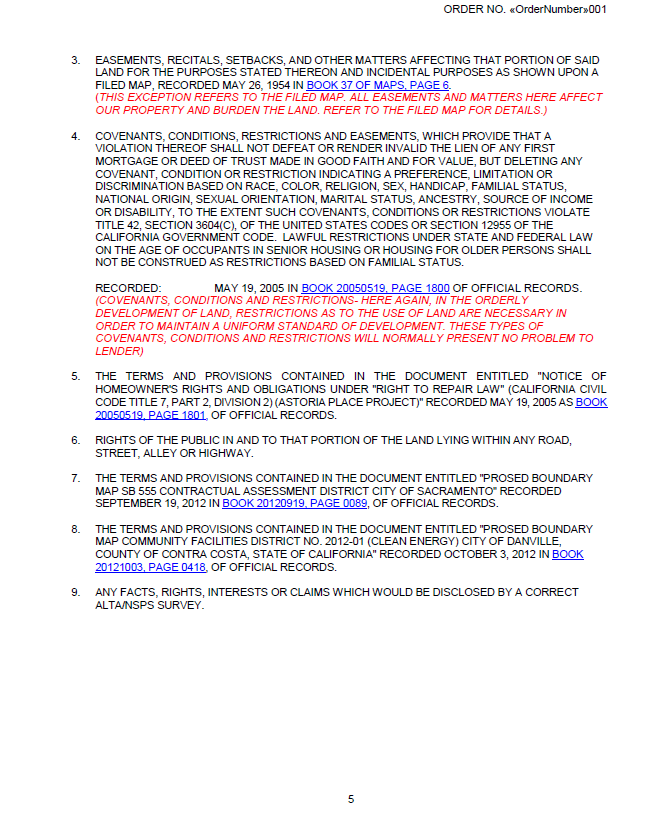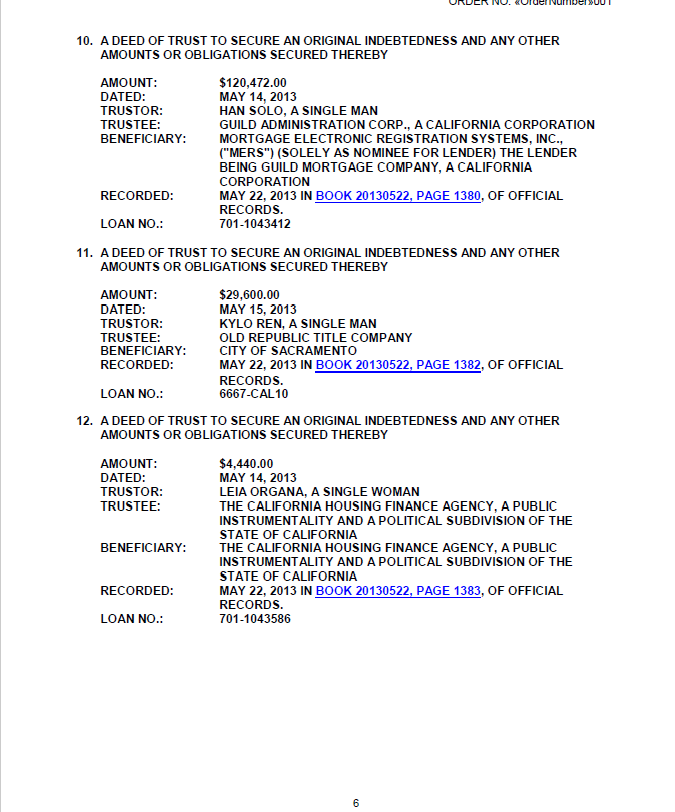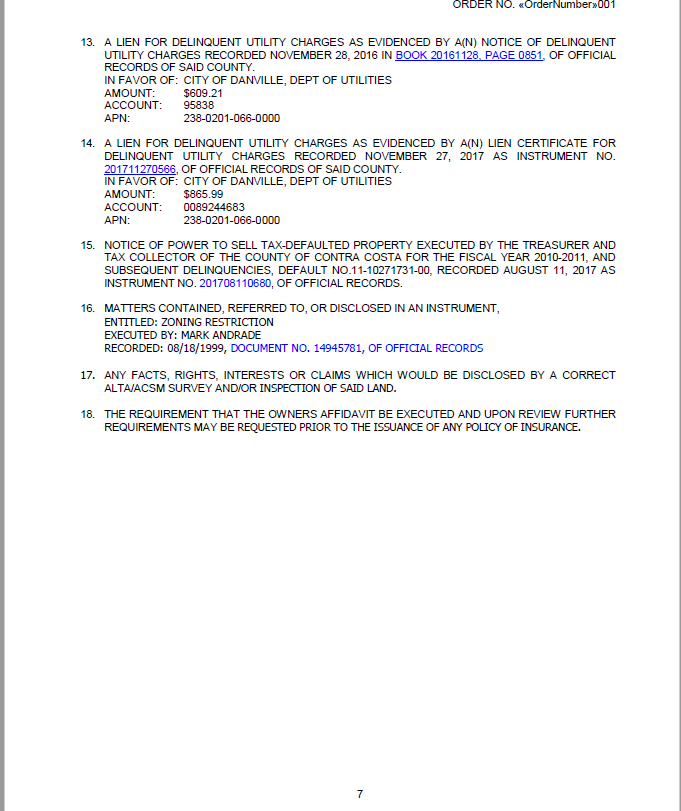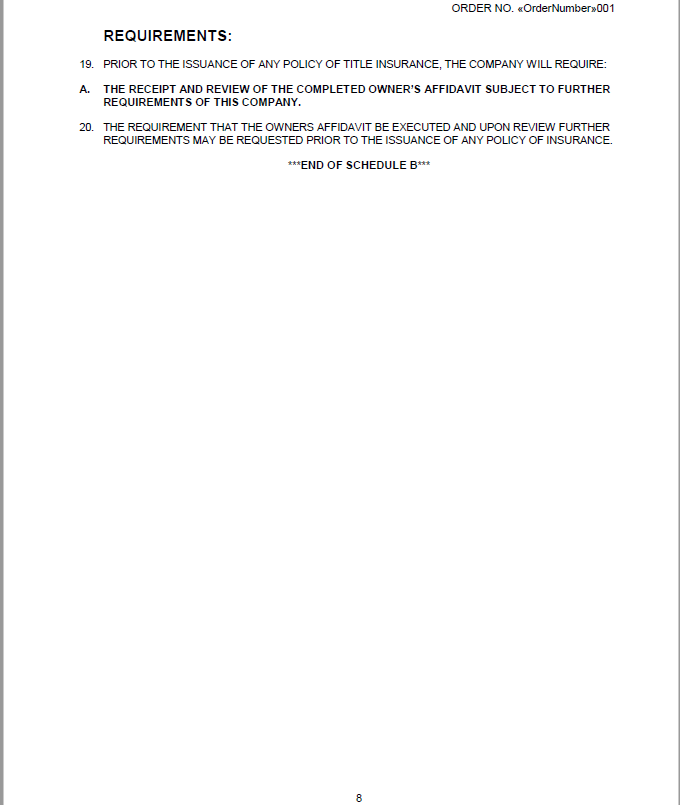 The transfer of property is subject to these exceptions unless they are dealt with by the seller before the sale.
If any liens or encumbrances crop on your preliminary title report, you have the chance to clear them before the sale goes through. Together with your real estate agent you can work with the sellers and their agent to clear the title before you take it on.
If you have any questions about your preliminary report, you can contact your real estate agent, an attorney, or your escrow or title officer.
Standard Exceptions and Exclusions
In addition to the list of exceptions that are particular to the home you want to buy, there are standard exceptions and exclusions that a title insurance policy won't cover.
Building codes and restrictions are exempt from title insurance coverage, as are zoning restrictions or other regulations for how land can be used in certain areas.
Sometimes a building is subject to zoning restrictions. For example, it may be in a historical district that restricts how a buyer can develop the property.
PLAT MAP
A plat map, which shows how land is divided into plots, may be included as well to show the general location of a property.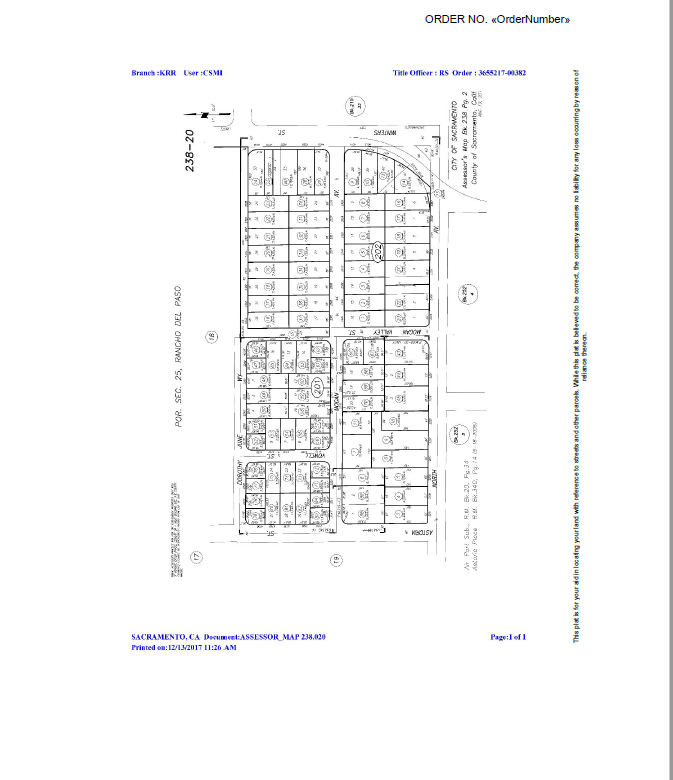 Last Pages: Title Insurance Company Information